When we visited with the family at my parents' house today, I didn't take a photo of my mom because I was too busy playing with the children. There are so many of them, and they are so adorable! So loveable! Their mothers, these women who gave birth (or not) and have devoted so much of their lives to their children, they are amazing. Having even one child must be as challenging as having six, like...
I've been looking through some of the copious amounts of writing I did in the early 2000s and found the following in a pseudo-hidden diary entry from August 2001:So, I've been thinking about writing a novel. It would be about a cup, a blue plastic cup who only ever sat on the computer desk beside the monitor because no one would put it away. The blue (please keep in mind that this is a...
My little sister had her first baby last week. This is the sister I shared a room with for most of my childhood, the one I played Barbies with when I was too old, the one who didn't kill me when I gave her dolls what I thought were very cool haircuts, the one I am still sometimes surprised to remember is no longer a fun, energetic teenager but is instead a fun, responsible adult with a...
2 tags
In the last week's mornings at the bus stop I've noticed a woman who reads a book while walking down the street. I'm too far away to guess what it might be, but it's a large book, hardcover. Not a textbook, I think — maybe a novel. At the corner she looks up to wait for the light to change, and she closes the book before she crosses the street, while she passes someone coming in the opposite...
3 tags
4 tags
2 tags
"It is 2001 in New York City, in the lull between the collapse of the dot-com..."
– Description for Thomas Pynchon's forthcoming novel, Bleeding Edge
1 tag
Water →
1 tag
We walked side by side each not knowing where the other was going. I veered to the right to give her room and she pushed onward that way, veering further and further right until we were on the other side of the street. She assumed that I was going that way, which I was not, and I in turn assumed that she was going that way, but she was not. We stood at the corner talking, and I waited for her to...
"On New Year's morning this year Claire got us to drive to the ocean to watch the..."
– A Box of Matches by Nicholson Baker
Some unimportant bullet points about my 2012: Graduated with an honours BA after 8 years! Still yay! Now what? Read over 100 books. I was secretly aiming for this all year but never declared my intention because I'm just cautious like that. So on average I read just under two books a week, which pretty much I read two books every weekend, which sounds about right. After April, 2012 was the year...
3 tags
Two years ago, I would have died a slow painful death before agreeing to sing by myself on the internet (see also here, here, here, and here). I still hit the right notes as frequently as I ever did, which is not all the time, and my singing voice still sounds as good to my ears as my speaking voice does, which is not at all, but something has changed. I have no illusions but I also have much less...
3 tags
3 tags
Some notes, in no particular order, from our trip to and from Florida for American Thanksgiving with Scott's side of the family: We found a used book store in Jacksonville, FL called Chamblin Bookmine where we accidentally killed a couple of hours. We had to cut short our lunch hour in Gainesville to make it to Punta Gorda in time for dinner. They had all the Barbara Pym I could ever ask for! I...
2 tags
2 tags
3 tags
2 tags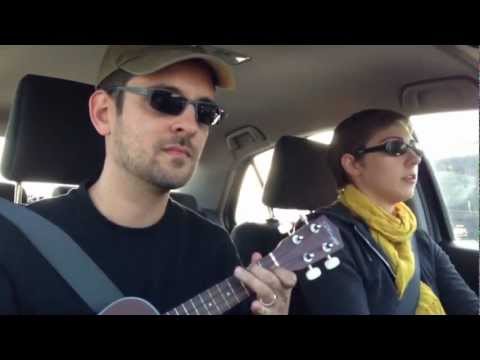 Every morning the construction at two different sites a block away sounds like fierce weather. When I'm half-awake I wonder why the windows aren't creaking. This morning we were out of milk so I ate a dry breakfast, inadequately washed down with orange juice. The other side of my office is empty now, who knows for how long this time. In the bathroom the drain plugs up randomly and the...
3 tags
1 tag
Addendum to the post about Haunted Hamilton: "Mount Albion Falls" tells the story about Evelyn Dick, a woman who allegedly chopped up her husband and deposited his body parts in the woods. Only his headless torso (no head, no arms, no legs) was ever found. The author wraps up the chapter with this unintentionally hilarious image: "Evelyn Dick has not been seen since her...
1 tag
2 tags
1 tag
Overtired. Head aches by the middle-end of the day, and concentrating hard enough can relax the scalp muscles which seem connected to a tight cap of weariness attributable to nothing. In the first split second relaxing the muscle liquefies the ache, but then it's more effort than squeezing tight against it, like a squint that makes your eyes water although the light makes them burn. What feels...
2 tags
In the mornings I wait for the bus in front of a church that's for sale. Across the street a group of men lean against a building out of the rain, smoking cigarettes and drinking coffee. Usually I stand at the edge of the sidewalk to stare down traffic, but today I slouch beside the church as a gesture towards not wanting to get rained on. I wear a hood but it rains harder and there's an umbrella...
1 tag
Life gets simpler and the simple things get harder. How do we get out of bed in the morning? I stand at the counter for hours every morning staring into an empty glass. I stand in front of the closet staring at my clothes for hours every morning. I stand in the shower for hours every morning because there's nothing to drink and I don't want to stand in front of the closet because I don't...
1 tag
"… every last incantation that left their lips was addressed to money, my..."
– "Notes On Pres. Debate #1 (2012 Edition)" by Scott David Herman
Hark! A Vagrant:: Canadian History Superquiz 2:... →
beatonna: Happy Canadian Thanksgiving everyone! In celebration, test your knowledge of our literary landscape. 1. Susanna Moodie is famous for her memoir: - Roughing It In The Slush - Flushing It In The Swish - Huffing It In The Bushes - Stuffing It In The Dish 2. "The Hockey Sweater" is a children's…
My grandma used to give us her old necklaces as presents, and we would never wear them. We loved playing dress-up with her old hats and fur stoles that looked just like the queen's. She always seemed to be the mildest and quietest person in the room but I know she could be stubborn and difficult. Her Dutch accent was so strong that I could never understand most of what she said. She never learned...
Sat on the couch and read all day, 9 to 6 with breaks for food and drinks like the best day job ever, until the full sun came through the windows. I tried to fight the heat with a fan and vodka tonics with lime but eventually, when I finished another book, I couldn't go on. I love to stay late at work but. The sun will be gone again soon enough I can start a new book. Won white basketball...
Laid in bed with a book in my hands with my head literally spinning. Not literally spinning. Trying to read I understood the words one by one but in between them other words and thoughts swelled up around them, pushing the written ones away. And when I closed my eyes — to let those thoughts take over for a moment in an attempt to deal with them logically and thereby dispatch them to the far...